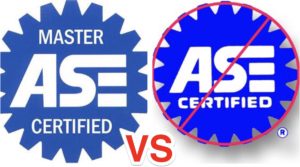 PDXinspections was established in 2007. We've now spent nearly 11 years in the business of performing proper onsite used car inspections using an appropriate Advanced ASE Master Certified Technician. Unfortunately, many consumers might be aware of what an ASE Master Certified Technician means and therefore don't know how to properly compare inspection options.
As a Doctor would have to complete a series of education and certifications to earn the title of being a Doctor, in a lesser sense an automotive technician must also do the same.
ASE is the standard for automotive technician certifications – http://www.ase.com/About-ASE.aspx
Why Does ASE Exist? – To protect the automotive service consumer, shop owner, and the automotive technician. We test and certify automotive professionals so that shop owners and service customers can better gauge a technicians level of expertise before contracting the technician's services. We certify the automotive technician professional so they can offer tangible proof of their technical knowledge. ASE Certification testing means peace of mind for auto service managers, customers. To become ASE certified, you must pass an ASE test and have full-time, hands-on work experience (or a combination of formal training and experience). The amount of work experience required can vary by test.
There are 4 levels of mechanics
"Car guy" or Shade Tree Mechanic – this person may or may not have formal automotive education or on the job experience. There is no way to verify what this persons qualifications are as they don't possess any ASE certifications. (There are millions of "car guys")
ASE Certified Technician – Formal education and on the job experience – ONLY 1 or more ASE certification. Anyone can pass 1 ASE test and become an "ASE certified Technician". Think about this, someone who takes ONLY the A5: Brakes test is considered an ASE Certified Technician. They may have worked at a tire shop and may know nothing about the other components of a vehicle.
ASE Master Certified Technician – Formal education and on the job experience – Has successfully passed ALL 8 ASE certifications. Meaning this technician understands EVERY system on a modern vehicle
ASE L1 Advanced Master Certified Technician – Formal education and on the job experience – Has successfully passed ALL 8 ASE certifications and in addition the L1 Advanced Engine Performance test which is more or less performance analysis and how a computerized modern vehicle runs and operates.
There are 8 certifications an automotive technician must pass to become an ASE Master certified technician. Only after a technician makes Master status, they can take an addition L1 advanced test.
The certifications are:
A1 Engine Repair
A2 Automatic Transmission/Transaxle
A3 Manual Drive Train and Axles
A4 Suspension and Steering
A5 Brakes
A6 Electrical/Electronic Systems
A7 Heating and Air Conditioning
A8 Engine Performance
+
L1 Automobile Advanced Engine Performance Specialist
*There are millions of "car guys"
Per ASE (July 2017):
There are 197,440 ASE Technicians
69,678 of which are Master Automobile Technicians
and only 34,598 have received their L1 Automobile Advanced Engine Performance Specialist certification.
PDXinspections is the ONLY used car inspection company in Oregon/Washington on the west coast and possibly the US using a Certified Master Automobile Technician with the L1 Automobile Advanced Engine Performance Specialist certification performing inspections.
There is not a standardized used vehicle inspection however if there were it would absolutely be modeled after PDXinspections. We are the ONLY company using Master ASE certified technicians while using all the proper high tech diagnostic equipment on our inspections. Also, we are your only guaranteed unbiased inspection service as we do not service vehicles meaning we have nothing to upsell you. We also do not affiliate with or recommend any other automotive business. We're also the only company that can properly test for head gasket failures as we are the only mobile company using the $5,000 analyzer required for this test. From our inception, we have always used up to date, modern diagnostic equipment with all our inspections. This means our results are objective as we can back our findings with use of measured values vs the subjective opinion of a "car guy".
Over the years, we've seen many other smaller companies both nationally and locally attempt to recreate our service. There are other Portland companies claiming to perform onsite inspections, they even make bold statements like they're "the original" or "best choice" for inspections when this is simply not true. When you know what to look for it becomes obvious that none of these companies provide proof of using ASE master certified technicians on their site, these are "car guys" providing a very basic subjective inspection without the proper high tech diagnostic tooling. Some of these companies are clever and pray on the unknowing stating they use "Professional technicians", what are those? If a company is using Master ASE certified technicians they will be proud of it and happy display it on their websites. When it comes to finding a Doctor, you want the most experienced and highest certified Doctor you can find right? When potentially spending tens of thousands of dollars on a used vehicle do you want the "car guy", the technician with 1 certification or the Master Certified Technician with every automotive service certification available?
The facts are, you can find our 5 star online reviews from 2007, we proudly display our certifications, tooling, explain our processes, give you sample reports and personally learn about our inspectors on our site. We'd put little faith in any company that isn't using master certified technicians to perform complete inspections on vehicles. Competition is good for everyone but we don't consider any company using "car guys" to look over your potential purchase a competitor. Most disappointing is to see any company claiming to perform a service and possibly not properly delivering at potentially the consumers expense – we're talking about your safety, the safety of your family and a lot of money here!
Since 2007 we've been in the business of helping consumers by performing complete used car inspections the right way and we will continue to remain your best and only choice for completely unbiased, and properly inspected vehicles for the future to come.