We've been getting a lot of questions about this lately. Simply put timing belts require replacement at manufacture specified intervals; timing chains do not require replacement unless a problem develops. In general, vehicles equipped with timing chains require less costly and frequent maintenance unless the chain, guides or tensioner develop a problem. When this happens the engine must be disassembled and the costs can be many times more than a similar timing belt replacement, in fact many engines require removal to fix.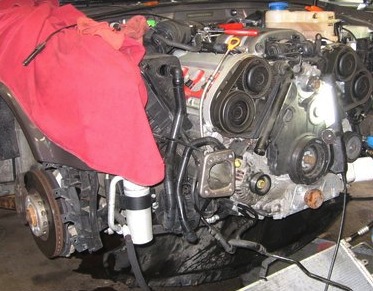 During our pre-purchase inspections we always check the accessory belt(s) and do what all that we can to determine whether the timing belt was replaced. On most vehicles the timing belt is not easily accessible to inspect without disassembly.  You're not going to find any independent shop or dealership tearing down an engine to inspect the timing belt in any used car inspection. If you do remove the timing cover to inspect, a visual inspection is usually worthless as an old belt and a new belt are typically virtually indistinguishable if not coated in oil. A 100K belt may look new when it comes to signs of wear and break a week later. If the cam/crank seals, water pump or sometimes even the valve cover are leaking it will saturate the belt in oil, this will quickly break down the belt and/or cause it to slip, stretch or break without warning. Our standard practice is to do our best to look for obvious signs of previous timing belt replacements: stickers/stamping stating replacement, service records, signs such as scratches on the timing belt cover(s) from removal, missing/stripped bolts, signs of motor mount removal, accessory belt condition (belts which sit in front of the timing belt that must be removed to get access to the timing belt and they're usually replaced during the timing belt service).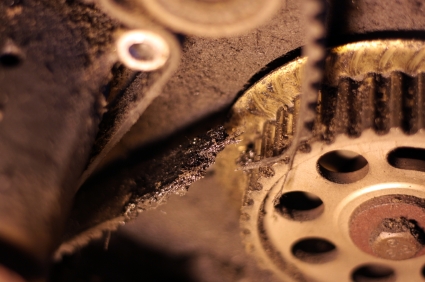 Sometimes there will be records in the history report(s)/ service records in which we typically provide when the VIN is included with your booking/payment prior to actually performing the inspection. If records of previous replacement are not available within the specified time/interval (dependent on the vehicle) we always recommend replacing the timing belt for peace of mind. This is a very crucial component, which is often overlooked. A timing belt that slips or breaks can destroy the engine if it is an interference type of engine. Remember it's not uncommon for people to sell/trade their vehicles in when the timing intervals approach because of the higher service costs involved so be alert to the manufactures recommended interval which can be every 60,80,90,100,105,110, or 120K miles or based on time 5-7 years. Remember, all belts are made out of rubber and rubber deteriorates with time so a 10 year old Honda Civic with only 40K miles should really have the timing belt replaced even if the interval may be every 105K miles. There are some vehicles such as Kia's, Hyundai's, older Volkswagen's and Audi's that are known for timing belt issues. These cars absolutely must have the timing belt replaced as often as every 60K miles. This service can cost upwards of $800+ so plan accordingly.