Our client hired us to inspect and verify this car was properly returned to factory after being advertised as a Salvage title with "no accidents". The salvage title was supposedly because a theft including stripping of all interior parts (a strange story from the get go). We found a very clear cut case of odometer rollback.
Click to Enlarge any of the photos
The seller had a similar ad on eBay with the same description highlighting the fact it has only 25K miles and it's never been in an accident.
Our inspection noted many things like the transmission oil being black (impossibly black for 25K), paintwork throughout the car with the front bumper and right front fender have been replaced with existing damage to the lower right core support. Overall condition of the interior was poor with 25K miles and so much more, I immediately suspected odometer rollback. After the inspection I went back to our office and decided to do a little more investigating.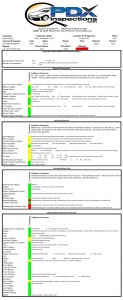 Click the Photo if you'd like to see the inspection report
Simply entering the VIN into Google netted me the following. Please notice body damage and more importantly 87K Miles per the description and odometer dated 11/18/2009
87K Mile car being sold as a 25K mile car, hard to believe right? Not really, this is how bad the used car market is. It was just nice to have the photos to confirm our suspicions.
Let's dissect this ad:
Hi! I'm selling 2004 Acura TL 3.2 Engine, Automatic tranny.Factory Rear Spoiler,
The seller added the spoiler – Look at his eBay feedback above.
NEW Battery,
Same battery pictured from the auction was installed in the car and in our inspection notes we noted "Les Schwab Battery dated 10/2007".
Tires & Brakes are 90% (like new) .
From our inspection we noted:
LF – 7/32″ ~ 63%

RF – 8.75/32″ ~ 84%

LR – 5.5/32″ ~ 44%

RR – 6.75/32″ ~ 59%

Mismatched no name generic tires front to rear – Over-inflated ranging from 35-38PSI, Acura specifies 32/32PSI
Front brakes @ 50% and Rear brakes needing replacement as we noted them @ 25%
Oil changed every 3000 miles,
How would the seller know that? Looking inside the engine I would disagree.
CARFAX available.
Which as you can see from the AutoCheck wouldn't tell you anything of importance.
NEVER Smoke or Pet inside.
No but as you can see from the condition of the carpet and seats in the eBay ad, this car was in poor condition for even 87K.
This car was stolen, so , that's why it has reconstructed title. it was stolen and strip. the head lights ,tail lights, seats,battery and navigation was taken off.
As you can see from the insurance auction photos everything stated above is false.
when i took this car from insurance company I put it into licensed body shop i trust ( they hol+d a best mechanics in Portland).they made full inspection and put all parts car was need.
Interesting someone would take a supposed stripped theft recovery to a body shop instead of a properly suited dealership or mechanical shop to do this kind of work.
lights are new from 2008 model type-S, so, this car looks like 2008 .this is a right car you need if you like TL.
Lights, type S badging and spoiler can all be found in his eBay feedback and as you can tell from the insurance auto auction pictures, the tailamps were intact as the car wasn't stolen.
this car has never been in accident ,never had a frame or body damage!!!!
The right front fender, front bumper and lower right valance were replaced, the entire right side and rear bumper were repainted. There was core support damage in the lower right corner.
to make sure, you can move it to any shop you like to make an inspection.
This surprised our client and us the most, we both agreed maybe he didn't think someone would take him up on the offer.
LOW MILES & EXCELLENT CONDITION!!! I guaranty- you will like this vehicle!!! i have a lot of pictures.
Low miles per the odometer, 87K+ actual miles as he forgets to mention. This car was in fair to poor condition overall even if you were to forget the accident damage and odometer tampering.
Here's the free AutoCheck report provided by eBay in his ad. This goes back to what we always say about these reports, they are virtually worthless in most cases. AutoCheck scores this vehicle a 93! Similar vehicles score 85-92. The first red flag – No federal mandatory odometer reporting at registration events, so looking at this report it would lead you to believe the car sat for almost 4 years.
Looking at the seller's recent feedback there is a trail of recent Acura parts. We were expecting to see the 25K mile cluster in there but unfortunately we didn't.
Dec-13-09 16:03 Painted OEM Factory Spoiler Acura TL 04-09 Rear Wing
Dec-10-09 23:12 TypeS Chrome Emblem Badge Sticker Honda Acura Civic RSX
Dec-10-09 12:23 ACURA TL OR TL'S 07-08 SWITCHBLADE KEY NEW!!!
Dec-09-09 21:19 04 05 06-08 ACURA TL S TYPE TAILLIGHTS TAIL LIGHT PAIR
Dec-08-09 13:42 2004 to 2008 Acura TL Splash Guards
Dec-08-09 13:19 2004-2006 ACURA TL FRONT GRILLE MOLDING 75125-SEP-A00
Dec-07-09 09:06 07-08 ACURA TL RIGHT FRONT SEAT OPDS UNIT AIR BAG SRS
Dec-04-09 18:09 Acura TL XENON Headlight PAIR 04-07
Nov-26-09 01:40 2004 05 06 ACURA TL FRONT BUMPER DECAL INSERT
---
We hope you took the time to read through this entire page. You'll be better off knowing how bad it really is out there. The sad thing is, this car will be sold to someone who will not only pay too much for the car up front, but will definitely regret the purchase in the future.
We received the following email from our client who had hired us to inspect it:
Josh –
Thanks again for going the extra mile. When I called him to tell him that I wouldn't be buying, he didn't seem all that surprised. I didn't go into details at all and he didn't even ask why.
The most unbelievable part was the Insurance Auction photos. I was floored.
I'll definitely be taking the time to give you a review. I can't even count the $ you just saved me (and my kids from potential harm).
You rock.
n8
This is the kind of thing that makes our business so rewarding.
Look for more information on how to spot these things on our tips section of the website. Digital odometers can make odometer rollback even easier now. Be an educated buyer and don't buy your next vehicle without having it first pre-purchase inspected by a reputable inspection service.

Josh – Owner
PDXinspections
This special Problem Solvers report was done by Kerry Tomlinson, KATU On Your Side Reporter KATU News, Portland, Oregon on why you must have your next used vehicle purchase inspected prior to purchase. Originally aired 11/16/10 @ 6:30PM featuring PDXinspections as your Portland used car-buying expert. The scam discussed in the video was laid out in detail HERE.