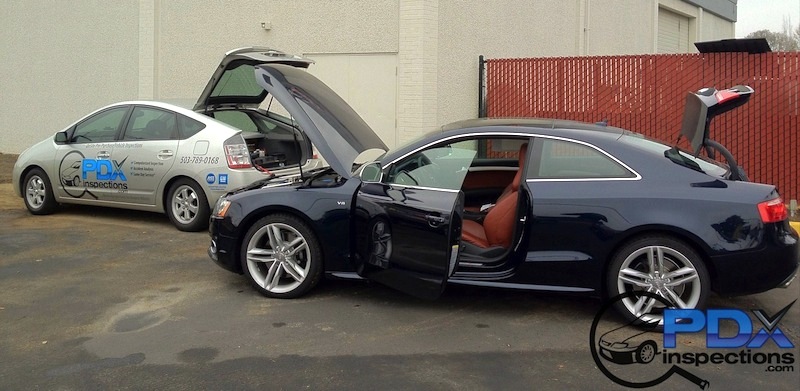 MOBILITY
– We go to the vehicle whether it is being sold by a private party or at a dealership. Our very thorough mobile used car inspections come with our own complete PDXinspections inspection report (.pdf) immediately emailed to you and start at $69 – Visit our
order page
for our complete pricing structure
COMPLETELY UNBIASED – PDXinspections is a "used car inspection specialist" we're not a repair facility. We do not repair, service or sell vehicles nor do we associate with any other automotive dealer, shop or business and because of this you can be assured we are your only option who is guaranteed to be completely unbiased offering you the most accurate and unbiased evaluation of your potential used car purchase. We have nothing to gain by reporting inaccurate information. We remain completely objective and report only facts. With well over 500 pre-purchase inspections per year on average, we know better than most how vehicles wear and what to expect to see at a given mileage/age.
VEHICLE HISTORY – Your vehicle inspection includes: unparalleled customer service and advice from start to finish: research prior to inspection (we often have access to vehicle service records), an AutoCheck history report, our own PDXinspections inspection report emailed within minutes of the inspection completion and post inspection advice if needed.
INDUSTRY LEADING – Our Platinum used car inspections are modeled after manufacture certified vehicle standards (I.e.150 point certified) but are far superior as we also check for repainted panels, frame damage, prior cosmetic and mechanical repairs and proper operation of all electronics/accessories, documenting: tire, suspension, and brake wear as well as running extensive mechanical tests you won't find with any other used car inspection.
COMPLETE – Our inspections are complete: Mechanical/Fluid/Safety/Wear Items/Electrical/Computer Diagnostics/Paint/Body/Frame. We use the same dealer/factory level scanners and high tech diagnostic equipment as the big franchised dealers do. These include multiple high end scan tools as well as a tablet/laptop with enhanced data capabilities meaning on most 1996-2014 European, Asian and American vehicles we can electronically check airbags modules, anti-lock braking systems, body controllers and more (this is far superior to a simple code reader others including some repair shops are using), Midtronics electronic battery/starting/charging analyzers, infrared testers, a modern 5 gas digital infrared exhaust analyzer, digital engine analyzer, coolant refractometer measuring efficiency/condition, cooling system pressure testers, a digital video scope to identify and inspect areas not easily seen without disassembly, an air jack to properly lift and inspect the undercarriage/frame/steering/suspension and more. Check out our tooling, Platinum inspection process or view some our past inspection photos
CONVENIENCE – You are more than welcome to join us for the inspection. Most of our clients have already viewed the vehicle in person prior to booking and just book the inspection online and once they have reviewed our inspection report make the decision to negotiate, go back with the report in hand to take a second look, or decide to skip the vehicle all together. Depending on the vehicle location and sellers availability we are usually available same day (when booked by 9:00am) to next day out. Our up to minute availability can be viewed on our order page.
EASE OF ORDERING:
1) Check our always current availability on our order page
2) Choose the inspection that works best for your budget, comfort level and vehicle and then follow the instructions to figure your pre-purchase inspection cost
3) Complete our used vehicle inspection order form, make your payment and your done!
We only ask you let the seller know you're considering having the vehicle inspected up front. We will then contact the seller after payment is made on the day the inspection is to take place to arrange a 30 minute window of our arrival, email you a confirmation of that time and an ETA on when to expect your inspection report via email.
SPEED – We are often available for same day service. We perform our industry leading complete used car inspection, measure painted panels to locate repaint and/or accidents, test drive, and email own proprietary inspection report (.pdf) immediately from the car inspection site. (High quality photos by digital SLR and high definition 1080P video of the vehicle's condition highlighting damage items is available and highly recommended for out of state buyers.)